Product name: Non-Hygroscopic Glycerol 65% powder
Synonyms:  Glycerine , 1,2,3-Propanetriol
CAS Number: 56-81-5
Appearance:  White to light yellow fine Powder
MF: C3H8O3
MW: 92.09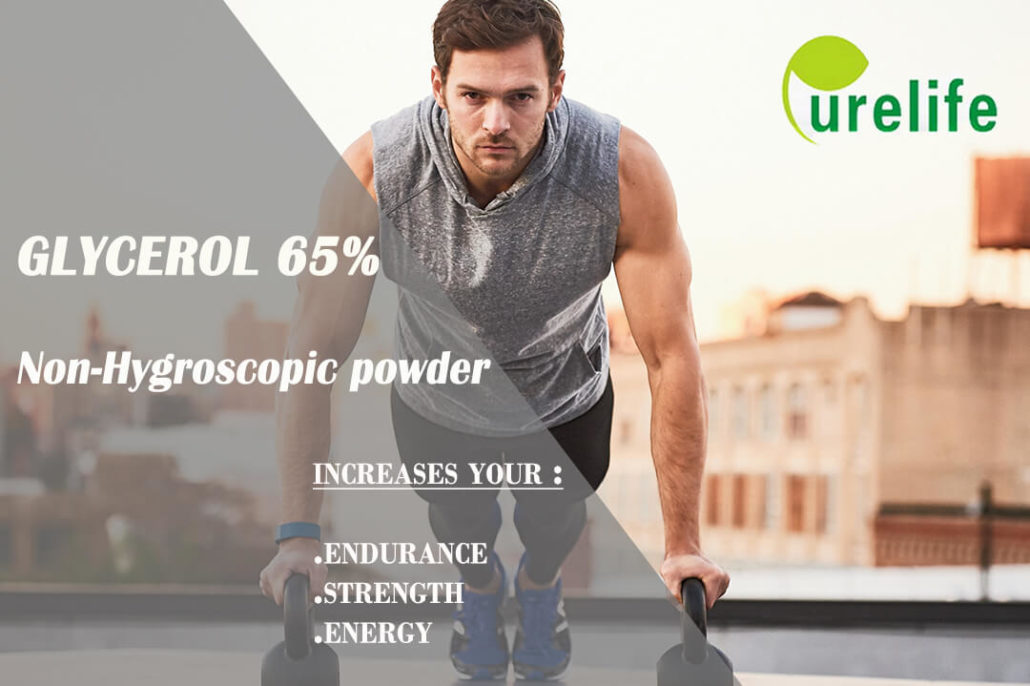 Glycerol review /what is glycerol?
Glycerol is a 3-carbon molecule, it is a sweetener and moisturizer commonly used in the food processing and cosmetics industry. In moisturizer creams, glycerol helps to bring moisture to the surface of the skin, to help skin smooth. It is also added to hair conditioner, shaving creams and eye drops for the same purpose.
Also, glycerol can be a nutrition supplement, because it is an important source of glucose during periods of fasting or starvation.
In sport, consumption of glycerol may be used for hyperhydration, as it reducesrenal water clearance, increasing fluid retention and total body water. Therefore, it is mostly found in sports foods and substitute dairy products, because glycerol can increase the amount of moisture in the body's tissues, and can increase the body's ability to exercise under high heat conditions.
How does Glycerol work?
When we have enough water in body, physical strength will be stronger and more lasting. Especially in high temperature environments, glycerol's strong water retention helps the body store more water, and helps to transfer water from the skin surface and subcutaneous to the blood and muscles, then the thing that increased water in the body's tissues increases the body's ability to exercise
Glycerol benefits/functions: 
Glycerol increases your endurance, strength and energy
In the studies that have found a performance benefit, glycerol's hyperhydration effects assisted in improved heat tolerance (increased sweat rate to cope with heat), delayed dehydration and reduced exercise effort.
These improvements were shown to then lead to significant improvements in time to exhaustion and also an improved power output of 3-5%.
Beyond the endurance setting, glycerol's hyperhydration properties may also be useful to enhance recovery after a large fluid loss, for example between events or multi-training session days. It may also be highly useful for athletes to re-hydrate following dehydration for weight-making sports between weigh-in and competition. Outside of the competitive athlete market, the use of this supplement could be utilized in other thermally stressful situations in occupational activities such as military operations/training and fire-fighting.
Purelife bio's good quality of non-Hygroscopic Glycerol 65% powder
GOOD QUALITY :
100% do not contain any animal ingredients
100% GMO Free
100% Pesticide Free
Comply with vegetarian diets standard
Only Ethanol (Drug grade) used as solvents, no other organic solvents used.
Meets API standard
Regular glycerol powder is notoriously unstable and hygroscopic, which makes high content of glycerol powder is very difficult to further be processed for tablets and capsules. In order for a stable finished product, manufacturers always use a low-yield glycerol powder, but in this case, the supplement effect can't be as good as we expect, or we will have to increase the total serving size accordingly.
Purelife bio's Glycerol powder solved this problem very well. It contains no less than 65% glycerol , and the rest 35% of excipient we use is medical grade & special silicon dioxide with high adsorption ratio, which improves glycerol powder stability. Our non-Hygroscopic Glycerol 65% powder does not clump, and flows very well, it is good for all applications of all formulations.
If you're interested in this non-Hygroscopic Glycerol 65% powder, welcome to contact us anytime .